Obi-Wan Kenobi – Light-up Lightsaber
Star Wars
Theme
sw0137
Catalog ID
2005
First Year Released
7257 (exclusive)
First Set Number
~$250
Current Market Value, New
$75, Est
Current Market Value, Used (Near Mint)
8 (in working condition)
Rare Scale 1 (Common) – 10 (Extremely Rare):
BRICKSTORY: This amazing figure is only one of five LEGO minifigures that have the coveted "Light-Up Lightsaber" function. Only appearing in one set, this figure is from Star Wars: The Revenge of the Sith from the famous duel between Jedi Obi-Wan Kenobi and the Jedi-turned-Sith Anakin Skywalker (7257 Ultimate Lightsaber Duel). Fun fact about all of the Light-Up Lightsaber figures, the minifigure head cannot be taken off since that is how you make the lightsaber light up! Judging the rarity of this figure is a bit challenging since most people that are selling this figure have it for sale, but the lightsaber no longer lights up. So, finding a figure in near-mint condition that still lights up is definitely a great find. NOTE: If you do happen to have one that is no longer working, it's a little known secret that you can actually replace the battery inside!  It's a fairly difficult operation, but you can remove the arm, pop out the back plate of the torso, and ever so carefully remove and replace the dead battery.  Good luck – it's a challenge… but worth it!

Lightsaber ON: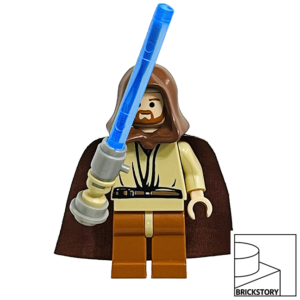 Lightsaber OFF: