Welcome to "The Fusion of
Bricks
,
Knowledge
, and
Technology"
™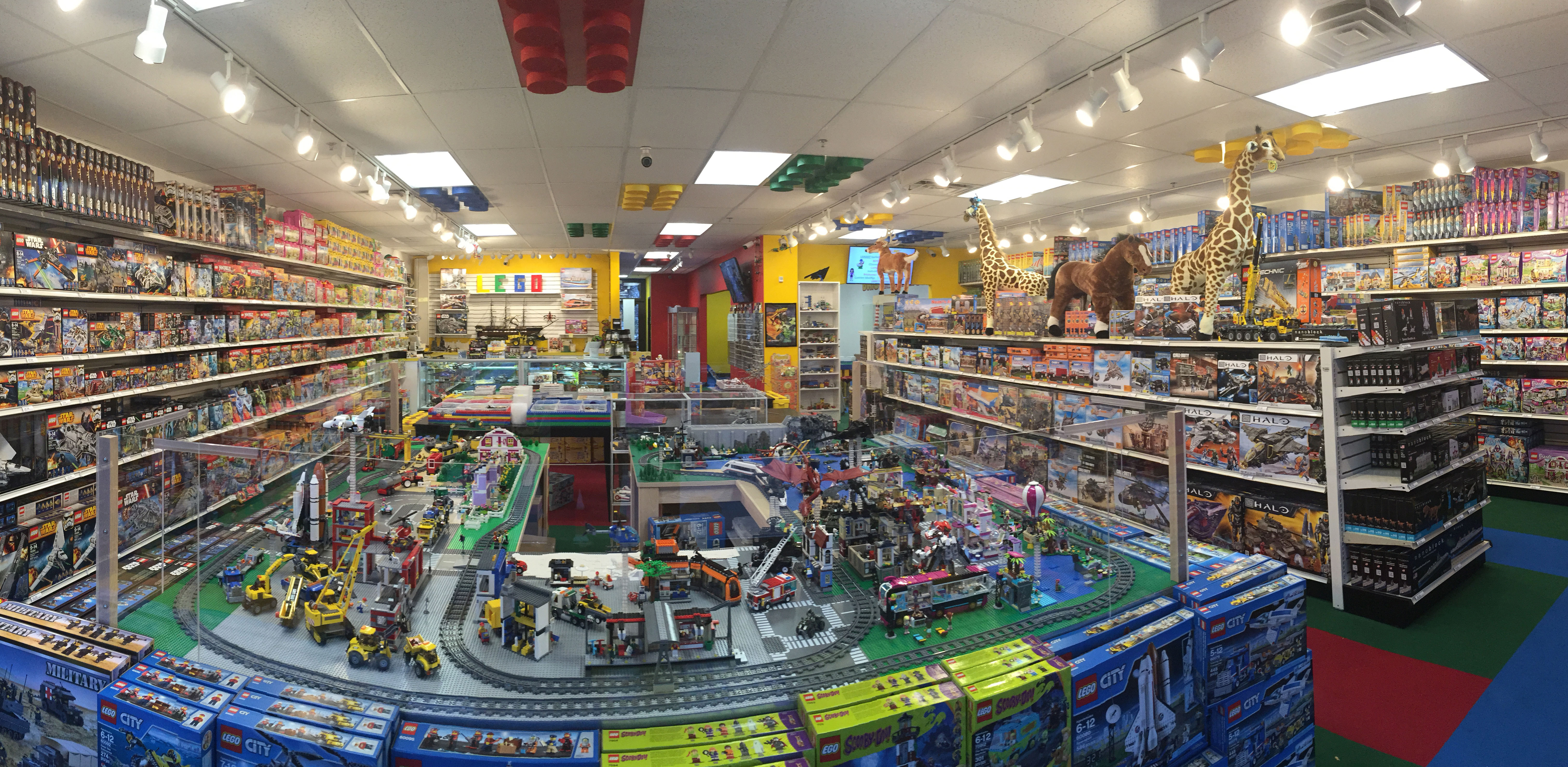 Bricknowlogy is a construction-themed retail toy store, education center, party experience, and ultimate trading post – in addition to providing unique printing technology that allows you to create custom minifigures, parts, bricks, photos and more!! Bricknowlogy has the largest LEGO® selection in the State of Idaho (and probably the region) at some of the best prices anywhere – right here in the Treasure Valley! All of our product comes direct from LEGO® and we carry all the LEGO® themes!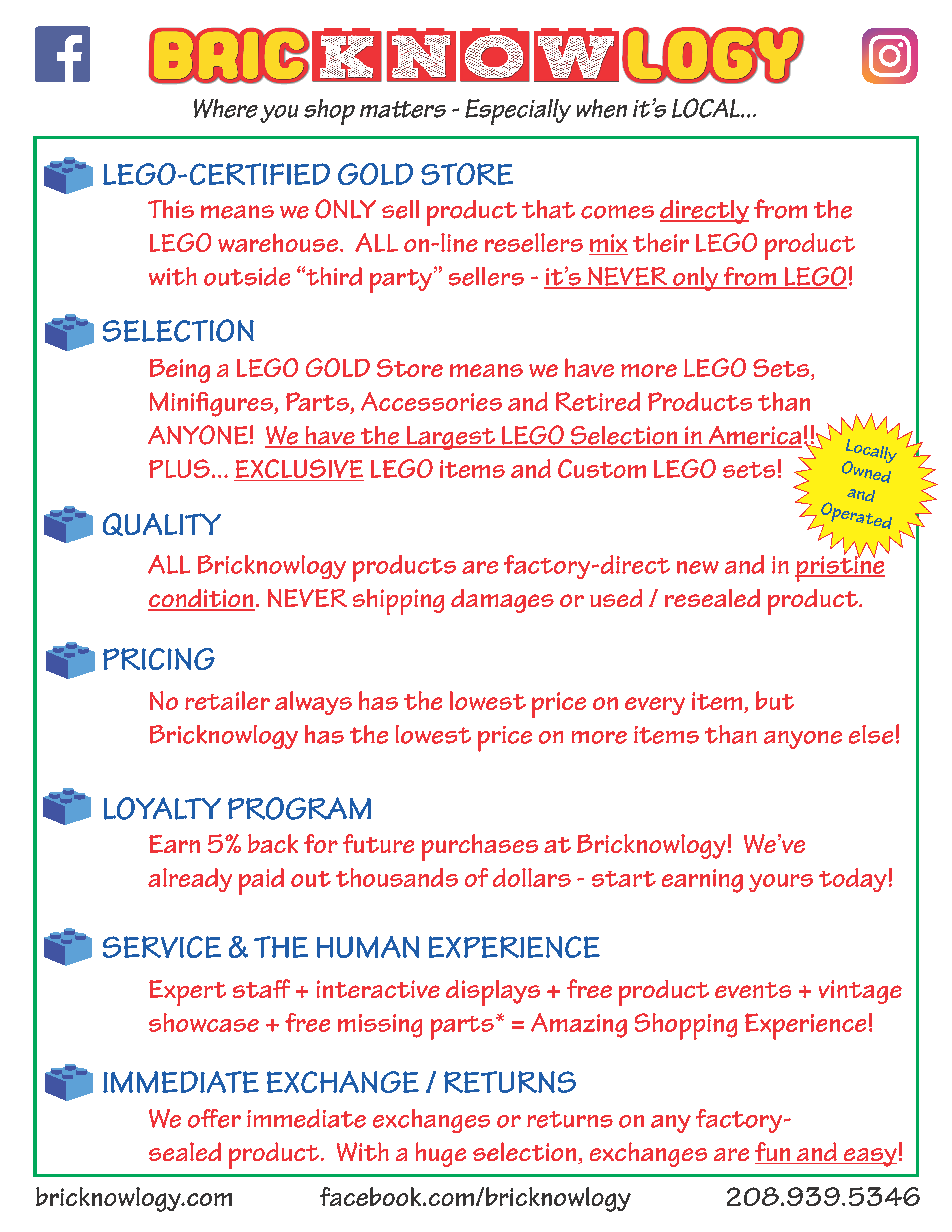 Bricknowlogy is a GOLD STANDARD CERTIFIED LEGO Store – a very unique and rare achievement bestowed on us by The LEGO Group.  This is very important since there is a tremendous amount of fraud in this space.  Sites like eBay and Amazon are notorious for selling fake, used, damaged, or incomplete LEGO products (with many missing pieces) as NEW.  First, these imitation products are not produced with the same safety concerns and oversight we have in the US. Inks for printing are often sub-par and potentially toxic, especially for children. Secondly, the ABS plastics are an inferior quality and with a lower density, and may separate from each other causing a choking risk and other problems. These poor quality items will never last as well as the legitimate products. And finally, from a trade-in perspective, these items are literally worthless and have zero residual value. (Click here for more details)
GOLD STANDARD CERTIFIED means Bricknowlogy only sells LEGO product that is sourced directly and only from The LEGO Group, aka "LEGO"
ALL of our products are factory-direct from LEGO: authentic and legit – Guaranteed
No on-line retailer or mass-merchandiser is GOLD certified, meaning that some or all of their product is sourced from unauthorized "third-party" sellers and mixed in with direct LEGO product and sold as their own, without indicating its true third-party source. Virtually anyone person or entity in the world can be a "third party"seller with these online stores.
amazon.com, target.com, walmart.com, etc. sell a lot of third-party items as their own

(i.e. "Ships and Sold by…")
ebay is completely unregulated and not a retailer.  ebay only acts as a broker between you and some third-party with no relationship with LEGO.
All ebay purchases come from sources outside of LEGO

It also means that Bricknowlogy is uniquely authorized to sell product in-store that is typically only available directly from LEGO
We get to sell a lot of cool stuff you won't see anywhere else
Why is Authenticity Important?
LEGO is an expensive brand, but for good reason: LEGO parts are designed and produced with the highest levels of precision and care for you and your family. Because of this, fraudulent product is easy and cheap to produce outside of those high standards. In some cases, it is very difficult to identify these fraudulent products, so the source becomes an increasingly important part of the purchasing decision. From health concerns to financial impacts, the risks of purchasing fake or fraudulent LEGO products are varied and potentially very dangerous:
Inferior paint, printing or color dyes are likely to be cheaply applied and subject to flaking, pealing, or chipping – potentially leading to foreign materials entering the body.

These materials often contain toxic chemicals that can be quite harmful if ingested.

Inferior plastics and injection molding processes can lead to parts breaking off and either ruining the model or potentially getting lodged in the body.

Third-party sellers often strategically remove certain parts, Minifigures, or even entire bags of product and then reseal the package and sell to the mass retailers as new – and the buyer gets stuck with missing parts or an annoying return process.

Only authentic LEGO products retain their value. We've seen many cases where people are looking to trade / sell product, only to discover their items where a very good fake – and now worthless.
What makes Bricknowlogy so Different?
The largest selection of certified LEGO products anywhere.
Loyalty Program offering 5% back towards future purchases – without the 30-day hold!
Hundreds of certified retired LEGO sets from various themes
Thousands of instant on–site replacement parts – FREE for sets purchased at Bricknowlogy (see details)
Hundreds of accessories to augment existing models, Minifigures, and MOCs / Custom Builds
Custom Printing on LEGO Minifigures, parts, and other products.
Hundreds of New LEGO Minifigures from all current themes and many retired themes.
LEGO Pick-A-Brick section with a huge selection of parts in various colors – all 100% LEGO
LEGO Parts Packs of hard-to-find certified parts and assemblies
Birthday Parties and Events for all ages
Mint-Condition Boxes – for collectors, gifts, or just getting what you paid for!
Entire staff of LEGO experts and Master Builders… like nowhere else!!
Huge display table and display cases filled with the latest builds, custom sets, and unique building ideas!
Mini-Museum of very old LEGO Minifigures and Sets from 60's, 70's, 80's and more!
IT'S FUN TO VISIT!!!
Went to this place Sunday morning and the owner spent so much time with us explaining all they do, can do. Love local! Go check this place out for sure. Great prices and variety.
Great store! Our kids asked if we could go back tomorrow. Great collection of lots of different Legos at great prices. And the original USS Constitution was amazing!
Awesome store, super-friendly and knowledgeable staff, GREAT prices …very excited about this place!
Got a chance to visit this great store on a recent trip to Boise. Excellent selection of products and the permanent displays are really amazing! Legoland has nothing on this store  : )
Amazing selection (even the hard-to-find sets), very competitive prices, current sets that have been built and are on display (gives you a better idea of what you are getting), and the owner knows his stuff. Fantastic place–check it out!