Awesome  Brick-Day  (Birthday)  Parties!
We just had my son's 8th birthday party here and it was GREAT! Huge selection of unusual Lego sets along with all the ninjago/chima/friends you can handle. Family run and sweet as can be, these folks love kids and legos and you can tell they really enjoy putting the two together. We'll definitely be back for more birthday parties and/or day camps!
Morgan C.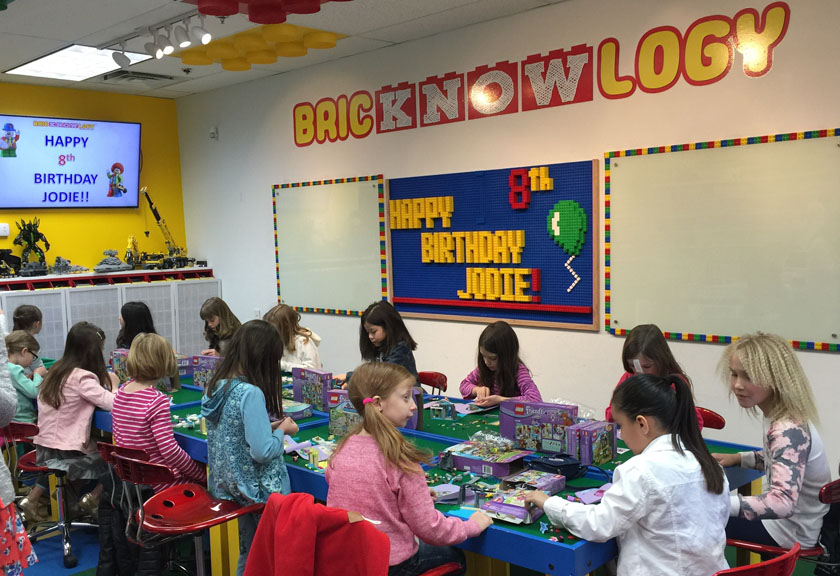 BIRTHDAY PARTY ALERT!
WEEKENDS ARE BOOKING 4 – 6 WEEKS OUT
CALL 939-LEGO (5346) TO CHECK DATES
The most fun with the least planning you'll ever have for a birthday party… have a LEGO® Brand Building Party right here at Bricknowlogy™
Huge Happy Factor: LEGO brand construction party with friends and family
Unique Format: Everyone builds together and brings home their awesome set / creation
Pick any set within the party budget from the biggest selection and best prices in town
With the lowest everyday prices in the Treasure Valley – that budget goes FAR…
Build, share, and play on our Custom Build Tables with all your party friends
No waiting for tables or rooms to be available – and no one pushing you through the system
One and Done:
No need for party favors (the LEGO set IS the favor)
No decorations (the store and all the displays are all you need)
Birthday Boy's / Girl's Name in Huge LEGO Blocks and on the Big Screens
Bring Cupcakes, Cake, Drinks and eat right at the Build Tables – we do all the cleaning!
No First-Aid Kits, Jugs of Hand Sanitizer, or Ear Plugs Required
Optional Cake-Topper Minifigs, Bricktures, Brickvitations, and more…
Any LEGO Brand sets you receive as gifts may be exchanged right at the store (with manager's approval) – No Receipt Needed!   Doesn't Matter WHERE it was Purchased!
★ ★ ★ ★ ★  I had my son's 10th birthday party at Bricknowlogy. It was fabulous! All of the boys are Lego lovers…so it was like a candy store for them! The staff was soooo friendly and helpful! The party was a huge success….no sweaty smelly kids, no crying, no kids were hurt, no kids were lost…all of the kids were quiet, content and happy to be buying and keeping their Legos! I was actually able to sit back, watch, enjoy…and not be frantic, stressed and sweating. We WILL be back and I give Bricknowlogy THUMBS UP!! Thank you!!
Erin U.
Just had a wonderful 9th birthday party for my daughter at Bricknowlogy – Build Your Mind! Thanks for a unique, fun and easy party!!
Cathy A..
We had my son's 5th birthday. They guys were so patient with all the kids and it was the easiest birthday party ever.
Angel S.
Our son had his 8th birthday party here and it was the best birthday EVER! The boys loved every moment and the employees were excellent and extremely helpful! Thanks Bricknowlogy for a great party! We will be back!
Jamie P.
We just did a double birthday for my boys. They are 4 & 6 and they had a blast. Not only did they love their party, their friends and their friend's parents had a great time. Thank you, Dean and Jared for all of your help and providing such a fun space.
Shawnelle N.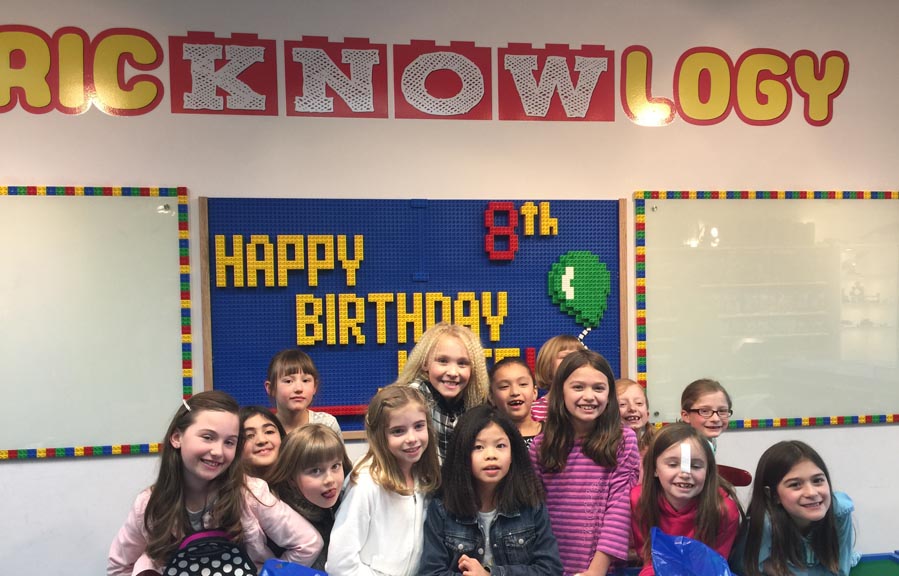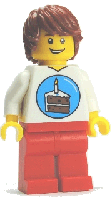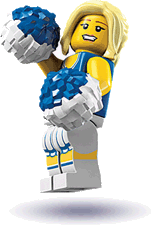 How It Works: You choose a price limit per set in advance (starting at $20 – a customary amount with dozens of sets to choose from), and all the attendees of the party get to pick any set in the store for that amount. Party sizes may range from 7 to 16 children on the weekends (Friday, Saturday, Sunday) or 5 – 16 children during the week, including the birthday boy/girl. Because of our low pricing model, a $20 limit provides access to over 40 sets in the Super Hero, Friends, City, Creator, Ninjago, and Chima sections; $25 provides access to an additional 15+ sets in the Star Wars, Creator, and Super Heroes section. There's a lot of excitement and comparing and trading between all the children during the selection process, and that usually lasts around 15 minutes. Next, we get the children seated at the building tables and let the construction fun begin! Generally, the kids will need some guidance on the build, and in addition to that, we provide some education around technique, use of special pieces, fixing mistakes (with "brick separators"), and alternate model ideas or modifications. As the children finish their models, we do a quick check, make any corrections, and then a few LEGO skirmishes usually breakout with the minifigs! You'll have access to the new party room – complete with a refrigerator / freezer, service sink, and lots of counter space – for a full two hours… and WE DO THE CLEANING!
Price: Party prices naturally vary based on the number of children, the price limit you set, and the items that the children choose – plus the $50 Hosting Fee for the party room and staff for coordination, expert building assistance, and clean-up. For planning purposes, with a $20 budget/child with 10 children, the total package maxes out at $250. It's $285 with a $25 limit and 10 children. The best part is that everyone goes home with an awesome gift, with no need to purchase any additional party favors or gift bags (that usually go right in the trash anyway – or get stuck to your car window on the drive home).
There is a minimum total party price of $190 on the weekends / $150 on the weekdays, including hosting fee and party sets purchased.
Two popular add-ons are also available:
"Bricktures", where we take a group photo at the end of the party and print it directly on to a field of LEGO bricks. A 4x6 Brickture is $44 (two-sided is $59), and a 5x7 Brickture is $59 (two-sided is $74).
Custom minifigs with a name, birth date, or other images are available for $25 each (click here for more details)