Awesome  Brick-Day  (Birthday)  Parties!
We just had my son's 8th birthday party here and it was GREAT! Huge selection of unusual Lego sets along with all the ninjago/chima/friends you can handle. Family run and sweet as can be, these folks love kids and legos and you can tell they really enjoy putting the two together. We'll definitely be back for more birthday parties and/or day camps!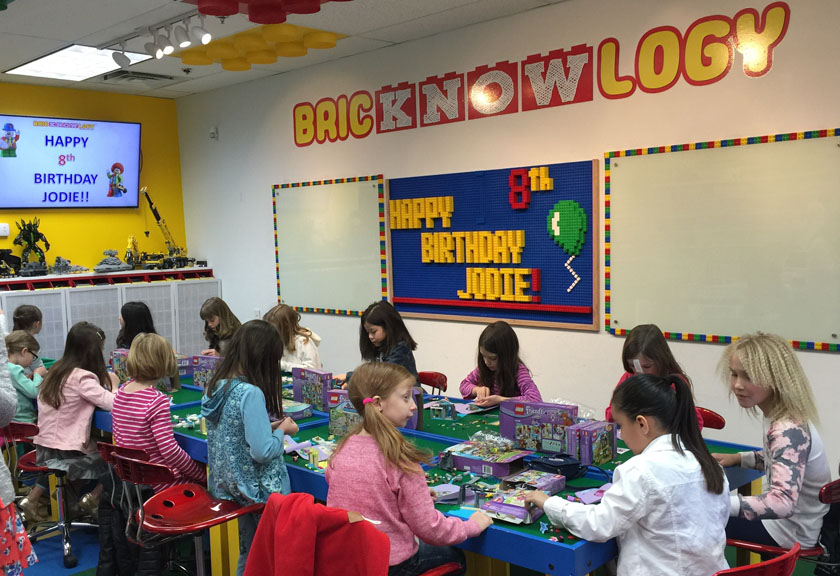 BIRTHDAY PARTY ALERT!
BRICKNOWLOGY PARTIES ARE BOOKING QUICKLY
208-939-5346  FOR THE MOST CURRENT AVAILABILITY
The most fun with the least planning you'll ever have for a birthday party… have a LEGO® Brand Building Party right here at Bricknowlogy™
Huge Happy Factor:
– LEGO brand construction party with friends and family.
– Build and bring home a new LEGO set from the largest LEGO store in the USA!

Focus on Health and Safety:
– We are fanatical about our products' safety and provenance.
– ALL our LEGO products come DIRECT from LEGO in Dallas, TX – straight our store.
– ALL our products are delivered in factory-sealed cases and opened only by Bricknowlogy staff.
– Our LEGO products are NEVER commingled or mixed or shipped with any other products.

– All "heavy touch" areas such as light switches, counters, sinks and door handles – including exteriors – are disinfected nightly.
– Our party room contains build tables with removable plates that are washed in antibacterial soap and hot water after each party.
– Our tables and chairs are disinfected after each party.
– At the start of each party, during the rules announcements, children are instructed to wash their hands when they use the restroom and before eating.
– Our bathroom is cleaned and disinfected nightly, and throughout the day as needed – and is always stocked with hand soap and paper towels.
– Our floors are vacuumed throughout the day and frequently steam-cleaned.
– Party invitees, guests or parents, may not attend parties at Bricknowlogy if they are sick or have a fever.
– Please see our special statement regarding COVID-19 procedures
– All Bricknowlogy staff wash their hands regularly, in addition to using hand sanitizer.
– All Bricknowlogy staff have been instructed and are acutely aware of the symptoms and early signs of COVID-19.
– All Bricknowlogy staff are taking extreme precautions in their personal lives – in and out of the store – to reduce the risk of exposure of any kind.
Unique Party Format:
– Everyone builds together and takes home an awesome new LEGO set
– Pick any set within your party budget from the largest selection and best prices in
– Build, share, and play on our Custom Build Tables with all your party friends
– Birthday Boy's / Girl's Name in Huge LEGO Blocks and on the Big Screens
– Bring Food, Cake, Ice Cream, and Drinks and eat right at the Build Tables – we do all the cleaning!
SUPER EASY!!
– No need to buy party favors (the LEGO set IS the party favor)
– No decorations needed – with over 200 items on display, that's all you need!
– No waiting for tables or rooms to be available – and No one pushing you through the system
– No trips to the First-Aid station, No waiting in line, No need to corral the kids, No ear plugs required
Optional Cake-Topper Minifigs, Bricktures, Brickvitations, and more…
★ ★ ★ ★ ★  I had my son's 10th birthday party at Bricknowlogy. It was fabulous! All of the boys are Lego lovers…so it was like a candy store for them! The staff was soooo friendly and helpful! The party was a huge success….no sweaty smelly kids, no crying, no kids were hurt, no kids were lost…all of the kids were quiet, content and happy to be buying and keeping their Legos! I was actually able to sit back, watch, enjoy…and not be frantic, stressed and sweating. We WILL be back and I give Bricknowlogy THUMBS UP!! Thank you!!
Just had a wonderful 9th birthday party for my daughter at Bricknowlogy – Build Your Mind! Thanks for a unique, fun and easy party!!
We had my son's 5th birthday. They guys were so patient with all the kids and it was the easiest birthday party ever.
Our son had his 8th birthday party here and it was the best birthday EVER! The boys loved every moment and the employees were excellent and extremely helpful! Thanks Bricknowlogy for a great party! We will be back!
We just did a double birthday for my boys. They are 4 & 6 and they had a blast. Not only did they love their party, their friends and their friend's parents had a great time. Thank you, Dean and Jared for all of your help and providing such a fun space.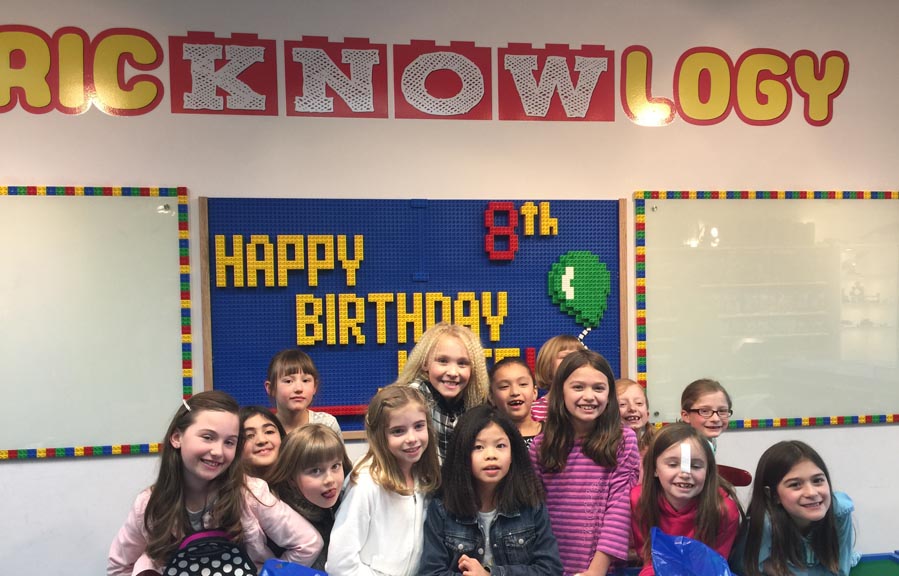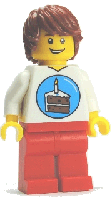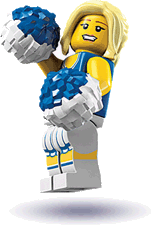 How It Works: Parents choose a price limit per set in advance (starting at $20 – a customary amount with dozens of sets to choose from), and all the attendees of the party get to pick any set in the store for that amount.  Because of our low pricing model, a $20 limit provides access to over 30 sets in Super Heroes, Friends, City, Creator, Ninjago, Minecraft, Harry Potter, and Technic sections; $30 provides access to an additional 20+ sets in the Star Wars, Creator, Minecraft, and Super Heroes section – typically for parties aged 10 and above. With a $20 budget, party sizes may range from 10 to 16; party sizes of up to 20 are possible with an additional hosting fee. Parties ages range from 5 – 100.  The younger ages of 5 and 6 will require some parental assistance in addition to our Master Builders so everyone can complete their builds.  Each attendee under 5 must be accompanied by an adult.
At The Party: Bricknowlogy Master Builder Staff assemble all the party attendees and go over the budget and how the party will work. Then the fun starts really starts!  Everyone is off to pickout their sets – with the guidance of the Master Builders. There's a lot of excitement and comparing and trading between everyone during the selection process, and that usually lasts around 15 minutes. Next, we get everyone seated at the building tables and let the construction fun begin! Generally, the kids will need some guidance on the build, and in addition to that, we provide some education around technique, use of special pieces, fixing mistakes (along with providing Free "brick separators"), and alternate model ideas or modifications. As the children finish their models, we do a quick check, make any corrections, and then a few LEGO skirmishes usually breakout with the minifigs! Then, the Bricknowlogy staff help bag up all the sets, gather any extra pieces, and get everything picked up and ready.  After that, you'll have time for eating, opening presents, cake, and some photos.  You'll have access to the party room – complete with a refrigerator / freezer, service sink, and lots of counter space – for a full two hours… and WE DO THE CLEANING!
Pricing: Party prices vary based on the number of attendees, the budget you establish for each attendee's LEGO set (typically $20 – $30, with $20 being the minimum) plus the $75 Hosting Fee for the party room and Master Builder staff for coordination, expert assistance, and clean-up. The minimum party cost is $275 (ex: 10 headcount at $20 each +$75 hosting) with additional headcount up to 16 (ex: a $20 / person budget for 13 attendees would be $260 for 13 sets + $75 hosting for a total of $335). Any combination that hits the $275 party minimum is allowed:
7 headcount at $30 set budget ($210 + $75 hosting = $285 total party price + tax)
5 headcount at $40 set budget ($200 + $75 hosting = $275 total party price + tax)
14 headcount at $20 set budget ($280 + $75 hosting = $355 total party price + tax)
4 headcount at $50 set budget ($200 + $75 hosting = $275 total party price + tax)
12 headcount at $30 set budget ($360 + $75 hosting = $435 total party price + tax)
10 headcount at $20 set budget ($200 + $75 hosting = $275 total party price + tax)

The best part is that everyone goes home with an awesome gift, with no need to purchase any additional party favors or gift bags (that usually go right in the trash anyway – or get stuck to your car window on the drive home).
Custom minifigs with a name, birth date, or other images are available for $25 each are also available: (click here for more details)