MORE ONLINE FRAUD AND LEGO-Brand FAKES

HOW IT WORKS
Especially during the Christmas Season, there is a high amount of fraud in many forms. Right now, we're seeing a significant increase in fraud – especially on-line – from various sources that have managed to infiltrate even the large retailers. LEGO Brand products are a common target due to the relatively higher price points, ubiquity, and product demand – and with the LEGO patent now expired, it's almost legal. Often, unscrupulous people – from anywhere – will purchase imitation LEGO products produced in China as well as a legitimate product from a USA-based retailer. They will return the imitation brand to the US retailer for a full refund, yielding the LEGO brand product at a significantly lower price. The US retailer then sells this returned, imitation product to an unsuspecting customer… and then the pain begins. These fake products are almost identical to the real deal, but with potentially dangerous hidden risks. First, these imitation products are not produced with the same safety concerns and oversight we have in the US. Inks for printing are often sub-par and potentially toxic, especially for children. Secondly, the ABS plastics are an inferior quality and with a lower density, and may separate from each other causing a choking risk and other problems. These poor quality items will never last as well as the legitimate products. And finally, from a trade-in perspective, these items are literally worthless and have zero residual value, due to all of the above and the fact that there is no demand for faux LEGO.
Complicating matter further, these imitation brands create external product packaging using the same artwork that LEGO uses. Although they do put their own logo on, it is often modeled very closely after the LEGO logo. Often times, as mentioned above, a dishonest person will purchase both a legitimate and a fake product, and then switch the inner contents are return the fake product in the good box. Again this yields them legitimate LEGO-manufactured product, while sending trash back to the retailer who unwittingly sells it to a legitimate customer.
HOW TO PROTECT YOURSELF & CHILDREN
Purchase LEGO products ONLY from Authorized LEGO resellers. Naturally, that includes Bricknowlogy – Build Your Mind and we hope that you start with us, but that also includes most of the "big box" stores as well. That said, we purchase from LEGO directly, not through a distribution center, and Bricknowlogy – Build Your Mind is the ONLY LEGO Authorized GOLD Store in the state of IDAHO. Because we are a local store without any ecommerce or global footprint, any returns we do receive, we verify purchase and carefully inspect the merchandise before acceptance. We can no longer accept ANY exchanges or offer store credit for LEGO brand product purchased via ANY online seller, including Amazon.
ALWAYS check the seals on the box. If they have been compromised in any way, do nut purchase it, or return it immediately. Also, check that the seal is a legitimate LEGO seal with the thick tape, solid black bar, and the manufacture week/location code (see photo)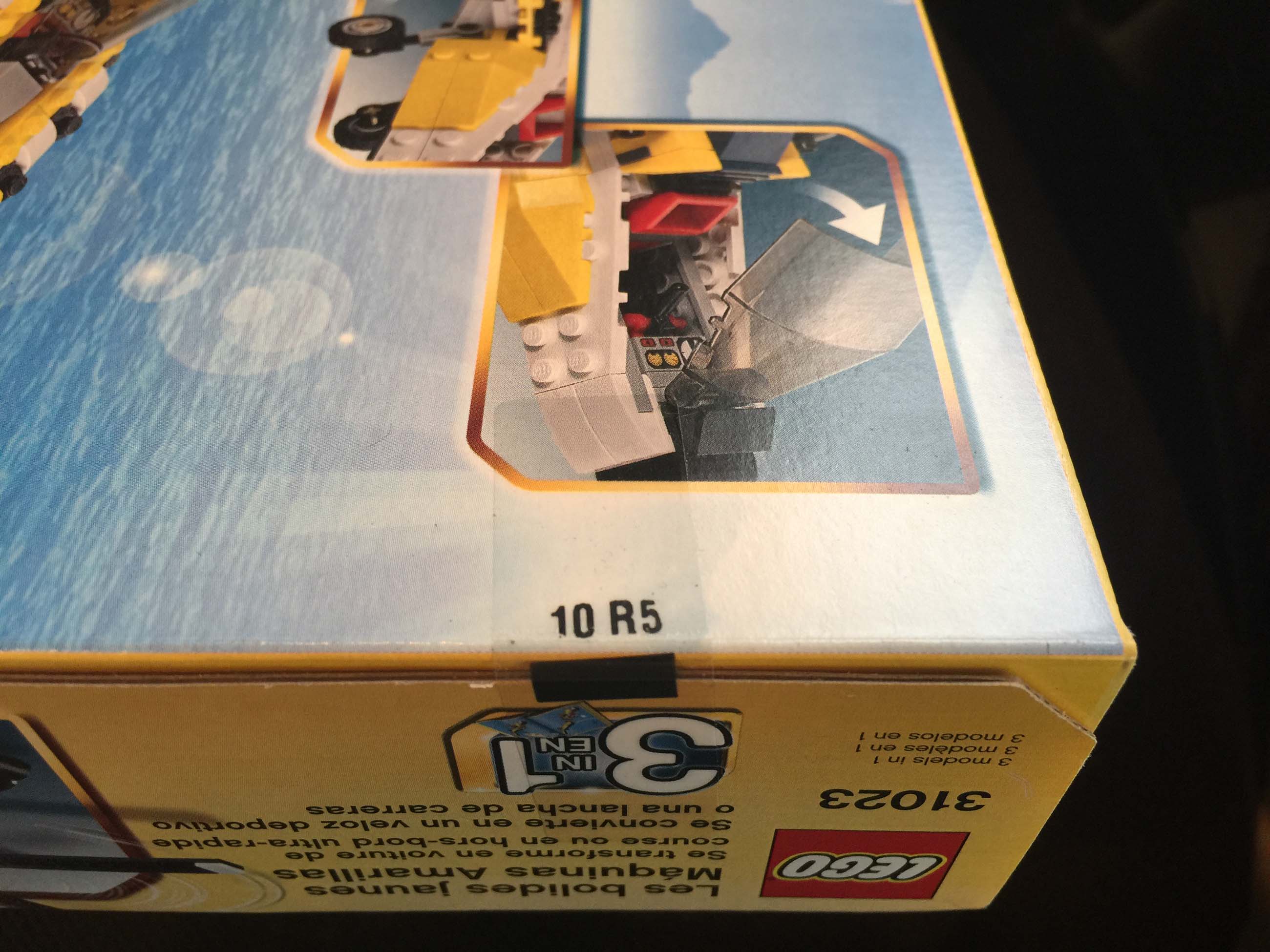 Be extremely careful with on-line purchases from anywhere, since there are little / no controls over their product sourcing or the return depots, making that a great target for dishonest people to send their swapped imitation product back for a full refund. That imitation product then ends up in the retail supply chain, and sometimes to your door. (See our post re: Online Fraud at Amazon and ebay)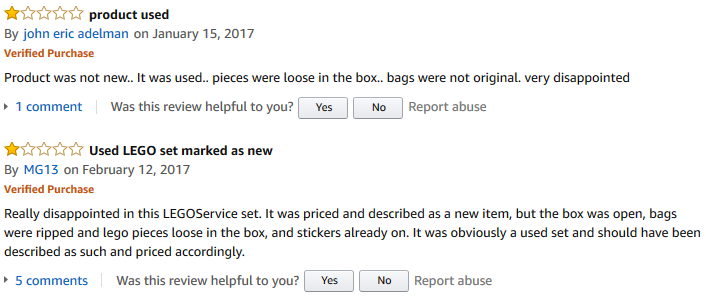 Pay close attention to the packaging itself. The artwork is SO similar and the names so close to the real deal, that often people miss that which is in plain site. Make sure the LEGO Logo, copyright date, and branding is there – it's so easy to brush past this during the Holiday season. LEPIN is a very common LEGO Brand impersonator… their logo is similar an the artwork identical. Even if the box is genuine LEGO, the

contents

may not be genuine LEGO – know the true source of product you are purchasing!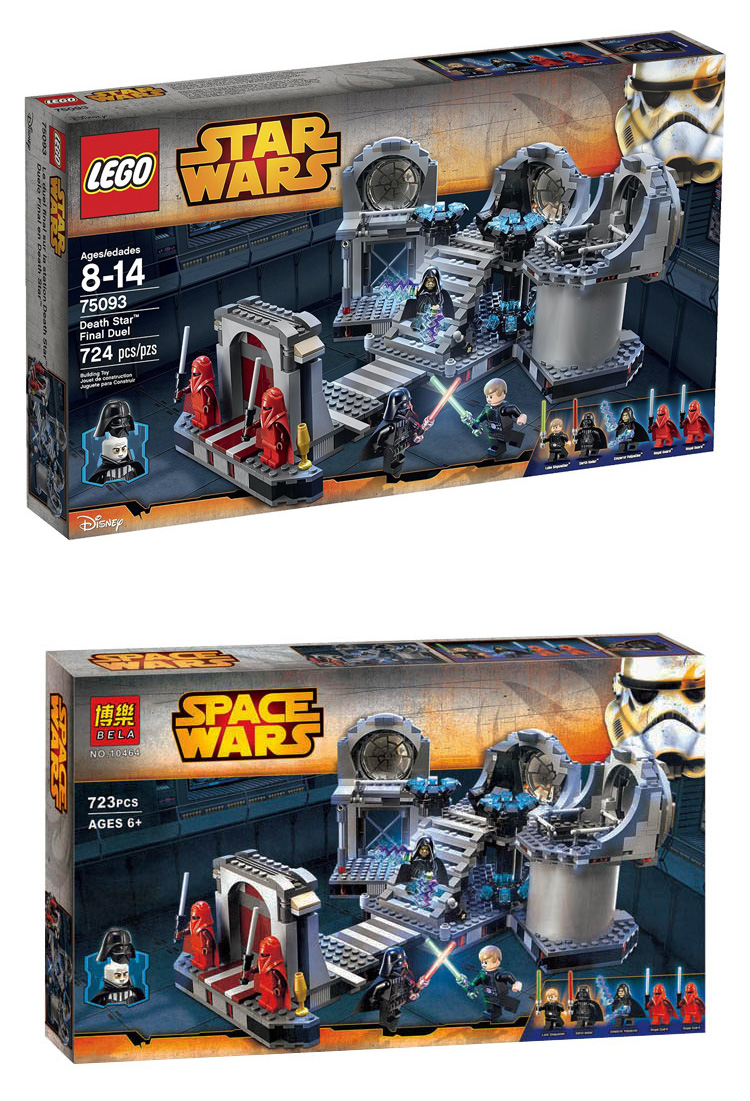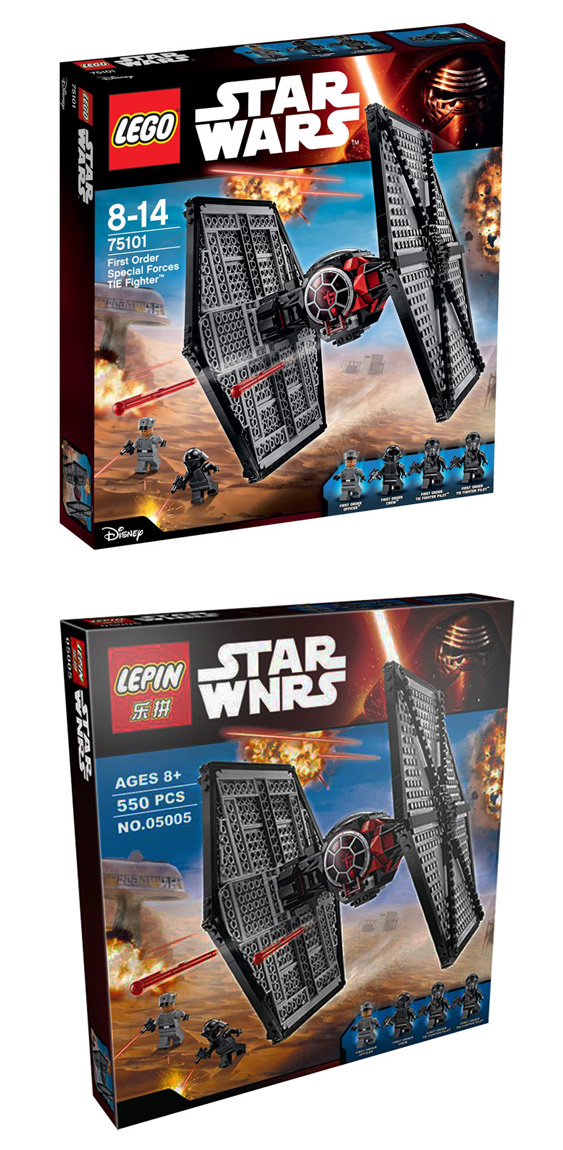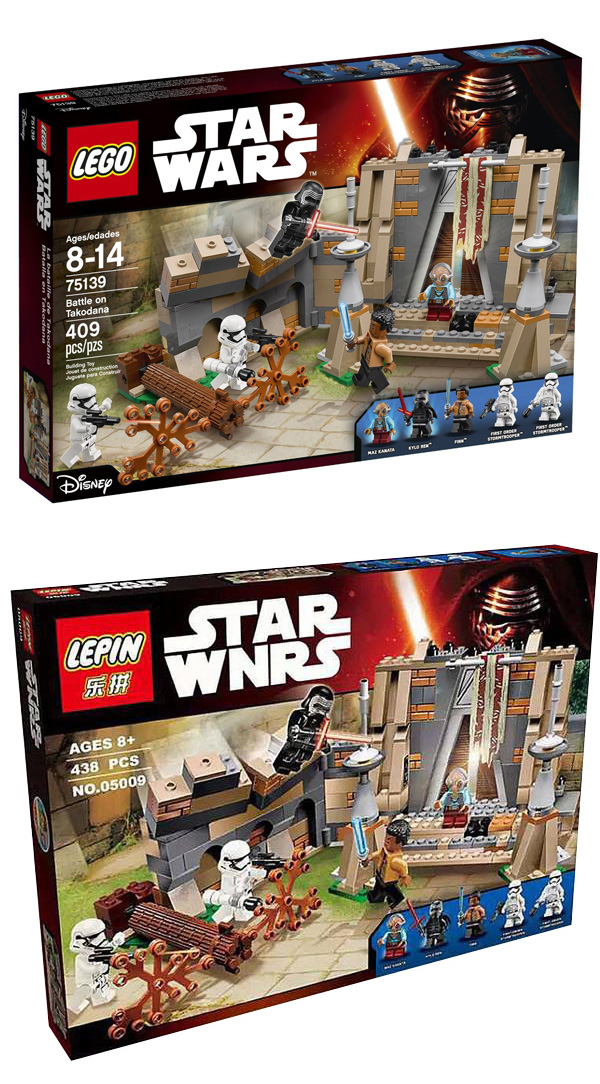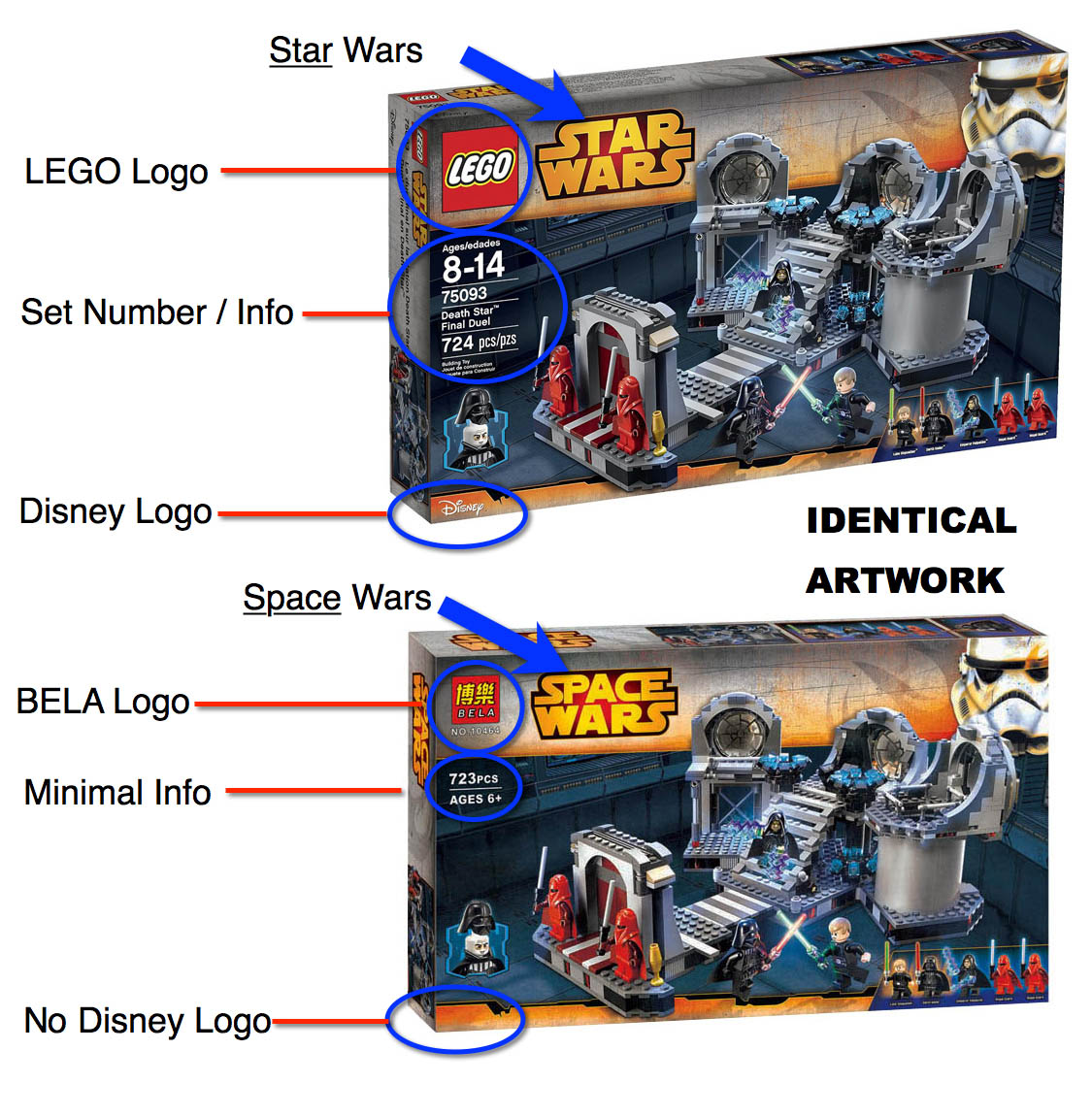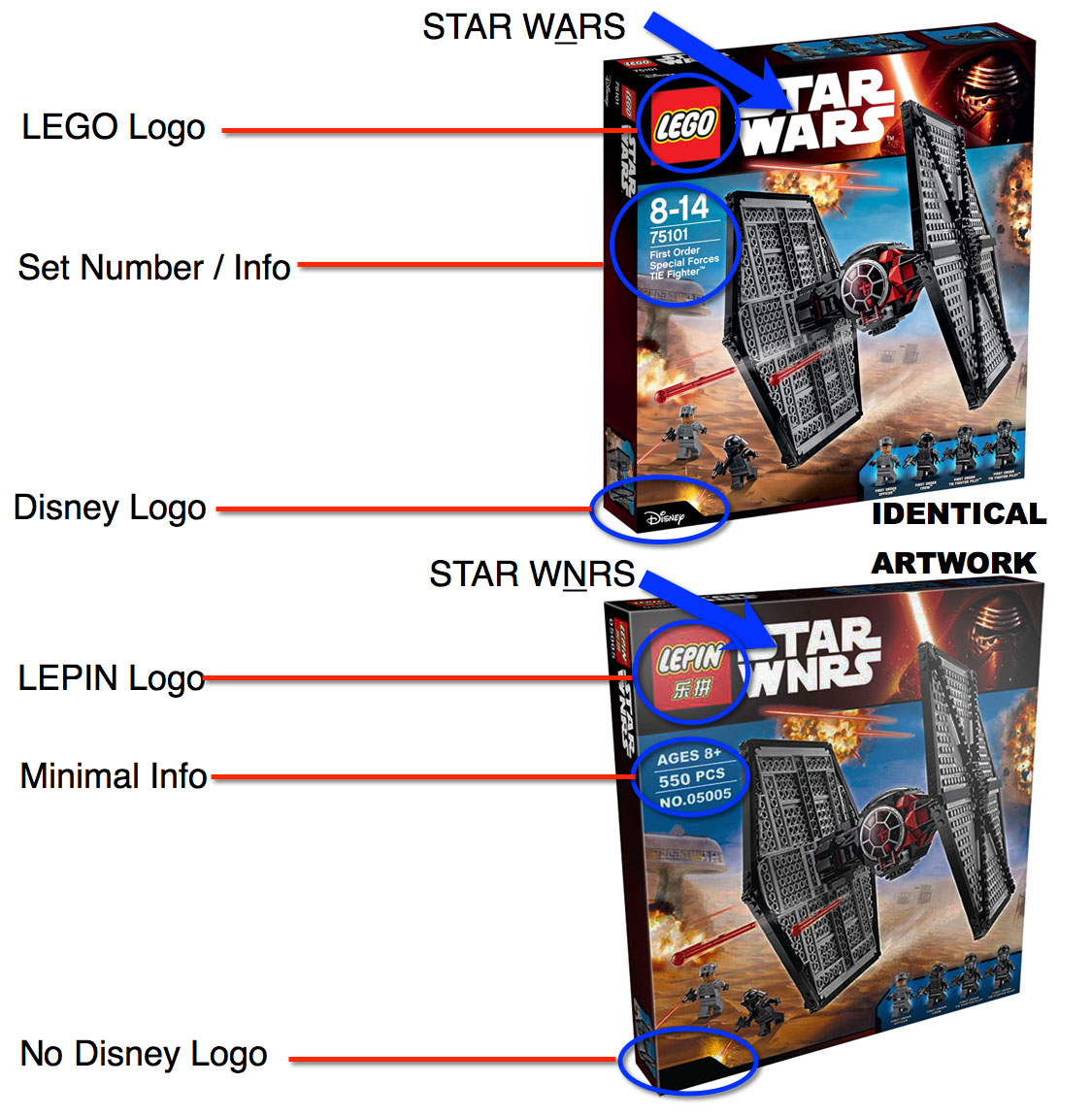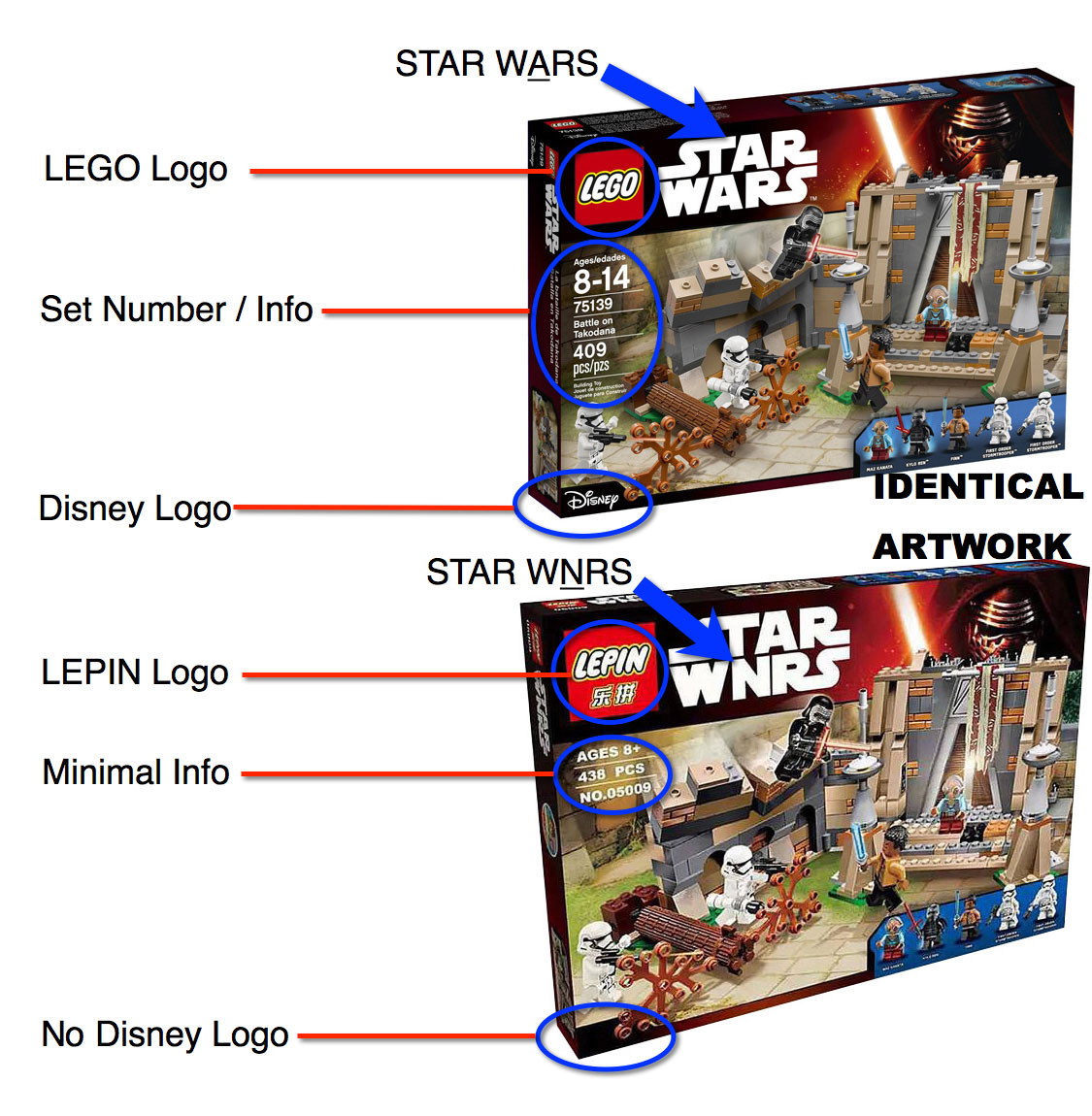 As mentioned above, even if the box is legit, check the contents upon opening. EVERY LEGO element has the LEGO logo stamped on it, and usually a part number. IF ANY bags are opened or there are small loose pieces in the box, it has likely been tampered with and you should send it back to the retailer. Larger parts are often including in the box without a bag, so you only need to be concerned with smaller loose parts or opened bags
Pay EXTRA attention to LEGO "Minifigures". These are the most popular, carry the most value, and are therefore the biggest target for fraud. At Bricknowlogy, we often have to inform people (of all ages) that their prized minifigure is a fraud, and has little to no value – and that is very disappointing for everyone. Be very careful when buying or trading LEGO minifigures out of the box – especially the licensed ones like Disney® Star Wars™ and Super Heroes from Marvel™ or DC COMICS™ – as these are the most valued and most targeted for imitation.