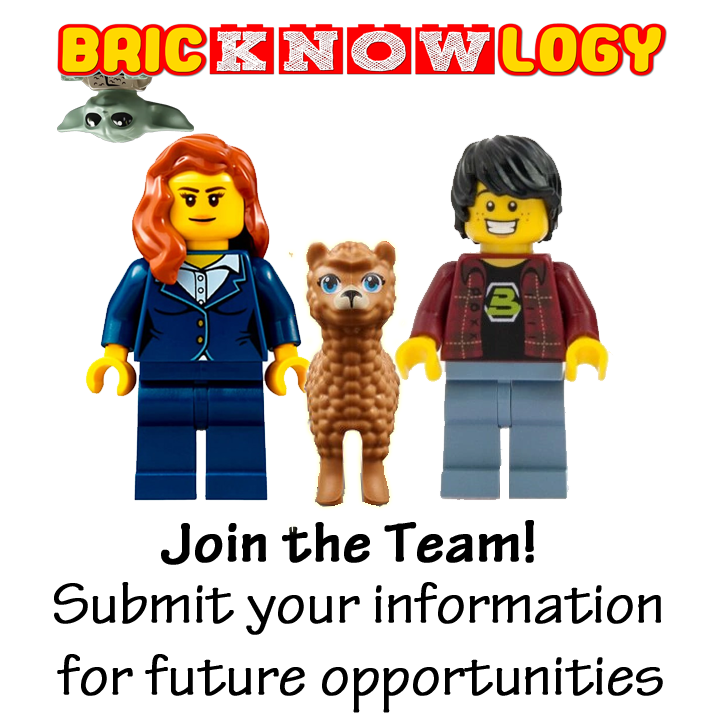 Bricknowlogy is not hiring at the moment, BUT…    We're always  looking for unique LEGO-lovers interested in joining the Bricknowlogy family!

So… if you're a super-friendly LEGO fan, enjoy working with people of

all

ages, and are looking for something completely different – both fun and challenging – then fill out the form below… we're looking for you!  Bricknowlogy scheduling requires candidates with availability for both the morning and late afternoon shifts as well as Saturday and Sunday. We realize this may not be possible for every candidate and we respect everyone's personal obligations, so please consider the scheduling requirements before proceeding.

At Bricknowlogy, we take pride in providing fantastic employment opportunities as well as critical skills training and developmental growth for the members of our community.  As any present and past employee will attest to, Bricknowlogy creates a fun and unique environment for working with LEGO products while expanding skills in multiple areas and gaining first-hand experience into many aspects of operating a small business.  Bricknowlogy strongly believes in personal responsibility and independent growth within the framework of our operating ethics.  To a large degree, each employee is empowered and entrusted to manage their own assignments and work flow. This is what makes it both fun and challenging And we never hire "seasonal" help – we want to keep you around for a while so you get to know our customers and share all your LEGO stories with everyone who comes in!

If this sounds like you, and you're interested (or know someone who might be), fill out the form below to get started.  We will not be able to respond to all inquiries.  Selected candidates will be contacted by us as opportunities arise – and we've got some big plans for the future, so we're going to need lots of help soon!  So if this sounds awesome, then we'd love to hear from you!