BRICKNOWLOGY REWARDS PROGRAM
Earn FREE LEGO!
If you haven't heard about the Bricknowlogy Rewards Program here's how it works…
Each time you come in, you can earn your way towards FREE LEGO and be one of the first to receive new or exclusive LEGO sets –
All you need is a phone number!
In addition to earning $5 coupons, Bricknowlogy Rewards Members also get
early or first access to newly released LEGO sets,
and put at the top of the request list for
Exclusive, Hard-to-Find, and Sold Out LEGO products.
1. Enroll with your cell phone the next time you come in – or sign up here

2. Earn a 'Brick' for every $19.84 you spend. (Bricks awarded per transaction are partial awards are not accumulated).

3. Once you reach 5 'Bricks', get a $5 SAVINGS REWARD sent via text right to your phone.

4. Save and combine 'Bricks' to earn larger rewards.

5. Redeem Rewards at checkout via phone number… in-store or online.

6. We've given away over $200,000 in Rewards already!!

Bricknowlogy already has the lowest price anywhere on many of our items, and now, you can save even more – plus ensure you're buying certified LEGO product from an authentic LEGO GOLD Store. See our fraud alerts for more information. 
We've already given out over $200,000 in rewards… sign up and claim yours.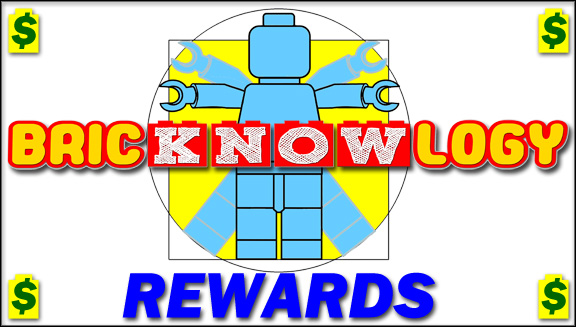 *Full details available in-store. Birthday parties not included. The LEGO Group strictly prohibits us from providing Rewards or discounts of any kind on many new releases that exceed $100 including all current Exclusive or "Hard-to-Find" LEGO sets. ALL Retired LEGO sets are included in the Rewards Program since they are no longer governed by any restrictions. Rewards earned take 48 hours to process and cannot be immediately used on subsequent transactions. Program and set exclusions subject to change.