IMPORTANT MESSAGE RE: ONLINE FRAUD AND UNAUTHORIZED LEGO BRAND RESELLERS

SELLING USED PRODUCT AS NEW
FACTS:
Online retailers often sell used LEGO products as "New".
These online retailers clearly have poor controls and little concern over returned product and fraudulent behavior.
This is not just "Third Party" sales – this is all transactions.
Aside from the frustration of receiving used LEGO sets, there are also health and safety concerns as well.
Here's a "Prime" example (pun intended):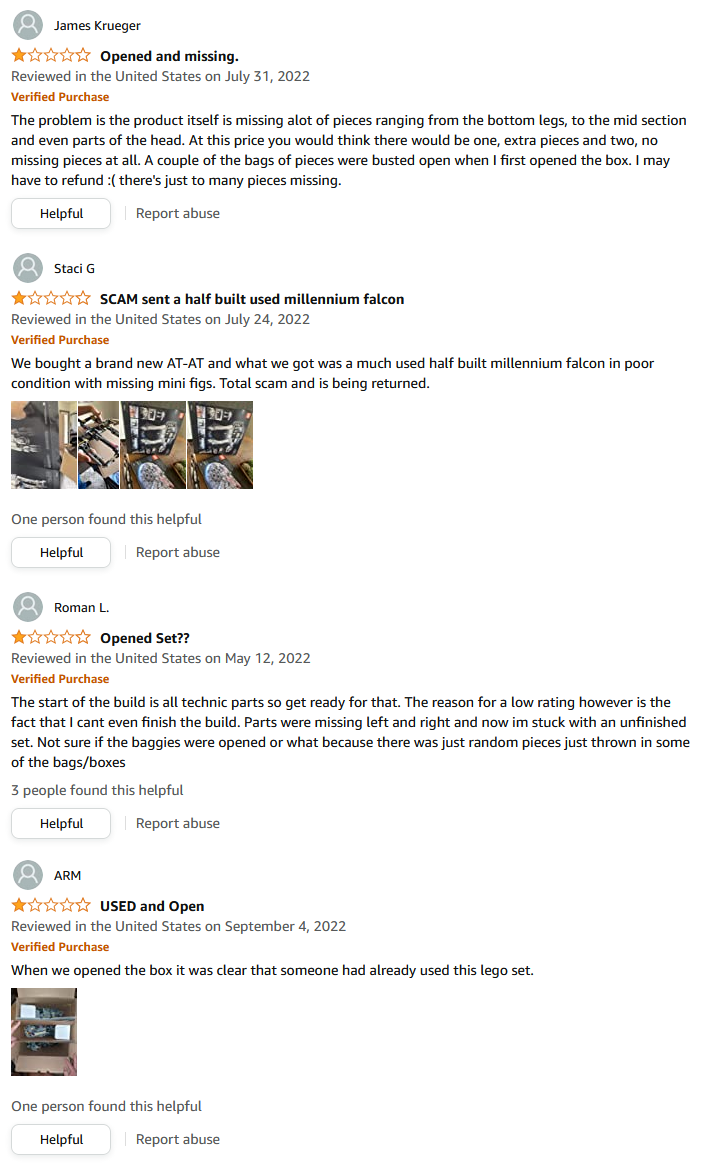 FACTS:
Bricknowlogy sells only LEGO Factory-Direct products straight to you, our loyal customers.
All our items are shipped directly to us from the LEGO DC in Texas.
Aside from fraud, there are many health implications that are covered in our COVID controls.
Receiving used products from unknown sources is dangerous.
Bricknowlogy is the largest independent LEGO store in the USA.
MISSING PIECES IS USUALLY A WARNING SIGN
FACTS:
Online retailers often sell LEGO products with Missing Pieces or worse, with all the minifigs removed.
The rate and quantity of missing pieces is much higher than LEGO factory standards and historic norms.
This is likely the result of selling compromised (opened and resealed) product, returned product, or fake product.

Another Prime example:

FACTS:
Factory-Direct LEGO sets are RARELY missing ANY pieces, though it does happen.
Current metrics from The LEGO Group indicate 1 in 100,000 sets are missing a piece.
Bricknowlogy sells only Factory-Direct LEGO and our service metrics mirror that 1 in 100,000 ratio.
Bricknowlogy GUARANTEES the integrity of the LEGO products we sell through our Missing Piece Guarantee.
LEGO Corporate often does not offer replacement parts  – especially for online retailers. Bricknowlogy will cover most parts immediately.
High missing piece rates from other retailers are indicative of fraud, serious integrity flaws, and general control issues.
POOR CONDITION = POOR CONTROLS
FACTS:
Online retailers often sell LEGO products that are damaged, opened, torn, or shipped without any external box.
Quality control of these enormous warehouses are minimal at best, and often times lack any oversight.
The provenance of LEGO products in these environments is poorly managed, resulting in the mixing of items from various sources into one container that is eventually sold to you.
Despite hundreds of complaints and bad reviews, there are very little changes with these retailers: Zero concern for the local community or their own reputation.
A Prime example:

FACTS:
Bricknowlogy sells only Factory-Direct LEGO sets in MINT or NEAR MINT condition.
All of our products are shipped directly to us in factory-sealed case-packs until we unpack them at our store.
The provenance – or chain of custody – is simple: LEGO to Bricknowlogy to You!
Reputation is EVERYTHING to us.  We live, work, and shop in the same community as our business.  Nothing is more important.