BRICKNOWLOGY'S EXCLUSIVE MISSING PIECE GUARANTEE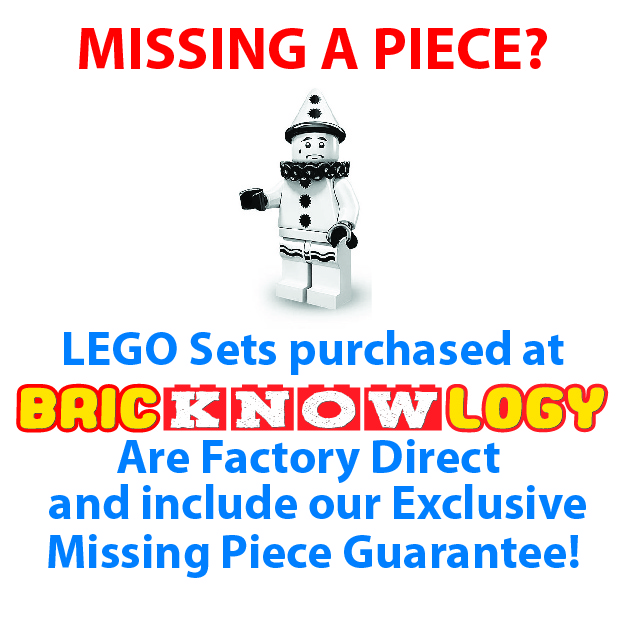 Factory-Direct Makes a Difference!

Bricknowlogy is very proud to be a LEGO-Certified GOLD Standard Toy Store – one of just a few in the entire USA, and the only one in the region.  As such, you can shop confidently knowing that all our products come direct from the manufacturer.  Online resellers (such as Amazon, eBay, Jet, and others) and even most major "big-box" stores mix their product with other third party sellers, so you can never be certain on the source – and they can sell it as their own (because the own it after purchasing from a third party source). 
Since our product is always factory-direct, and LEGO-direct product is very accurate, we offer our exclusive missing part guarantee:
If any LEGO set purchased from Bricknowlogy is missing a piece upon first opneing, we will immediately replace that piece from our vast inventory of spare parts.  In the rare case we do not carry that piece, we will do our best to offer a close substitute, or we will assist you in working with LEGO to obtain a factory-direct new part. No need to bring in the box or set… we simply use the honor system here.

Requires being a member of the Bricknowlogy BrickHead program so we can verify product purchase. Minifigure parts and accessories are excluded.
Simply come to the store and give us your account number and we'll take care of the rest!
Don't put your build on hold for weeks trying to track down a part – or have a very disappointing Christmas with missing bags or parts – we've got you covered.

All of our product is factory-sealed new and direct from LEGO. 
This nonsense NEVER happens at Bricknowlogy…